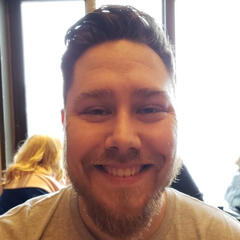 <Daniel Millier />
☁️Full Stack Developer🚀
Converts ☕️ into < />
🤓Hey there!
I'm a passionate, self-taught web developer focusing on full stack development. When I'm not turning coffee into code, you can find me binge-watching Netflix, listening to lo-fi, or hanging out with my 😸 Danny!

I'm currently learning JavaScript and loving it! I've also dabbled in other languages, such as Python and C++.
💻I Made A Thing!
RoboFriends // My first web app! It makes use of the RoboHash API to fetch a list of random robots.
HTML, CSS, React, Redux, Netlify
---
Background Generator // A simple app I made to generate a linear gradient.
HTML, CSS, Netlify
⚒️Weapons Of Choice!
hardware: A shiny MSi GS63 Stealth, love this machine!😍 Running Windows 10 Pro + WSL
software: Ubuntu shell, VS Code with Night Owl theme